Muggy. Hot. Sticky. Sweaty.
Those are the four words that most accurately describe our four days in New York. Not that we let that get us down.
Saturday The Road Show pulled into Water Taxi Beach in Long Island City, just across the East River from Manhattan. Look! There's The Empire State Building on the left. Chrysler Building and the UN to the right.
Harry, from Water Taxi Beach was a great host, and held a Salmon BBQ featuring the finest Wild Alaska Salmon. It was really tasty. The other great thing Harry did was let us park fin in the lot there for the entire stay. This was probably the biggest help we got while in NYC, and we all appreciate it.
Sunday we trotted off to SOS staffer Gilly Lyons' old neighborhood on the Upper West Side. We got a great spot between the American Natural History Museum and the Patagonia store. Chris, one of the guys from Patagonia, avid climber, took it upon himself to tackle this latest challenge.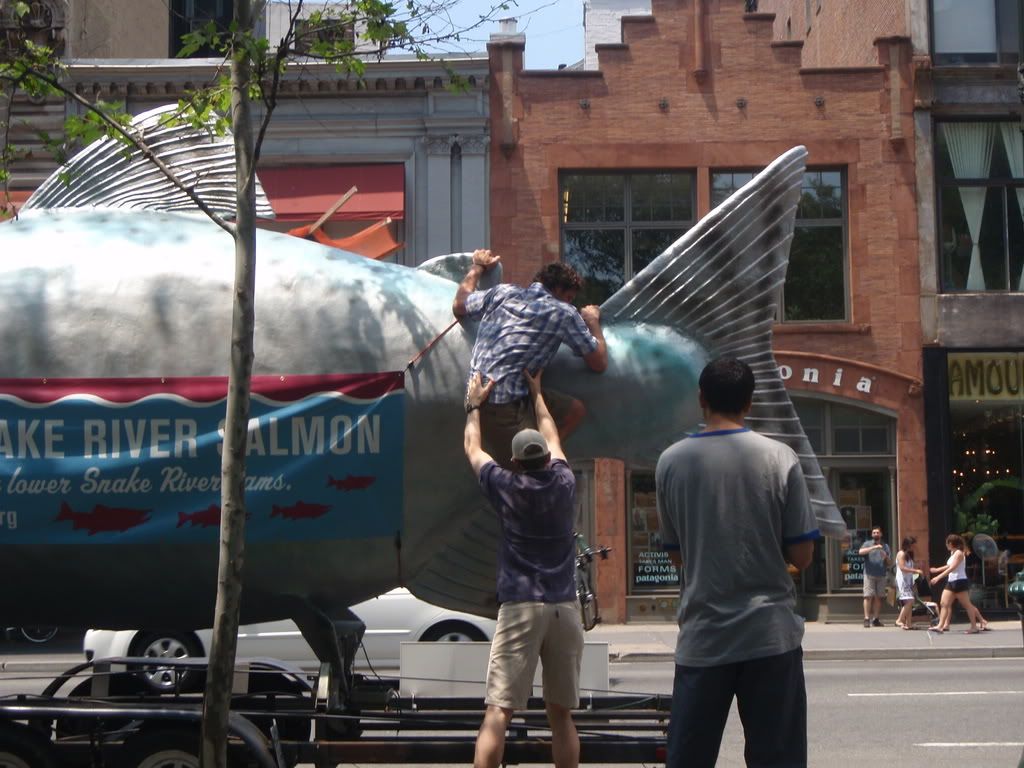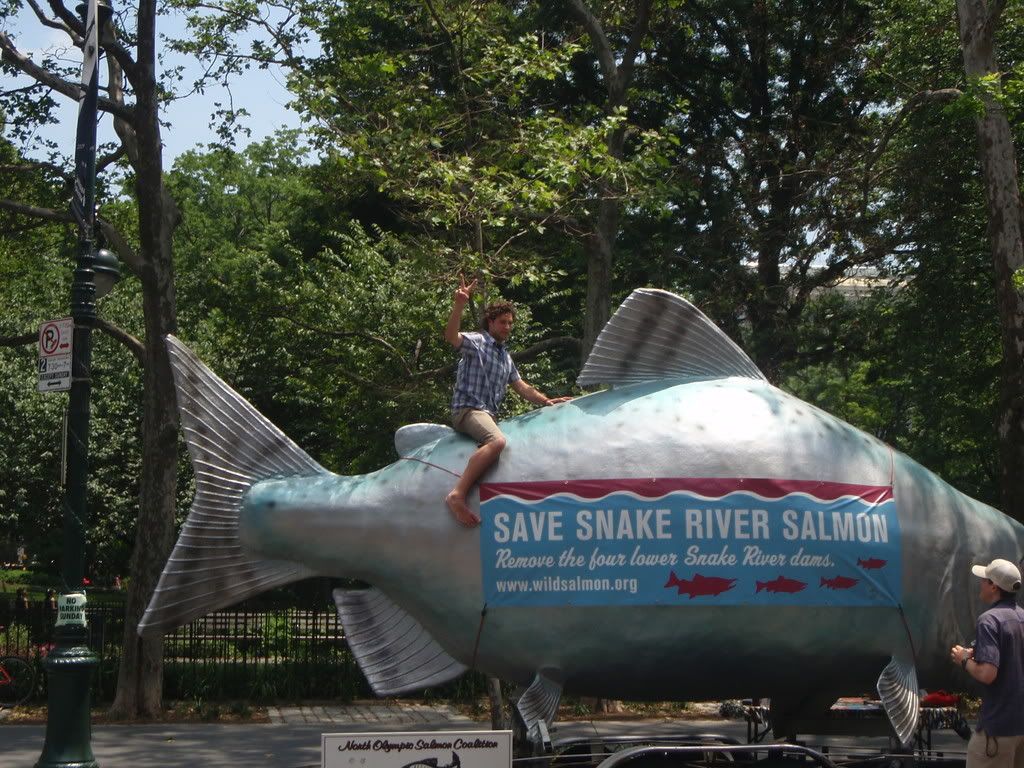 Success!
Despite the heat, which has unfortunate side effect of turning the inside of Fin into a large salmon-shaped oven, folks flocked to get a look inside, including this dad, who I think is more excited than his son.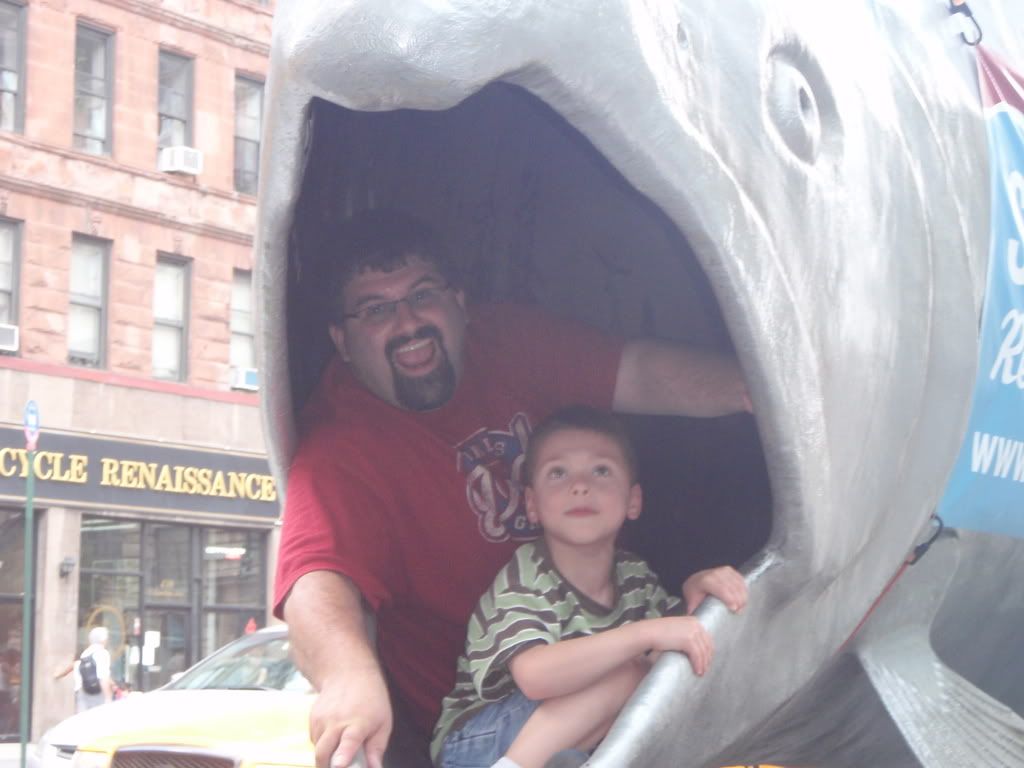 Sunday also offered a brief respite from the swelter, as the skies opened up just as we were packing up for the day. Blessed Relief. Bill danced in the rain.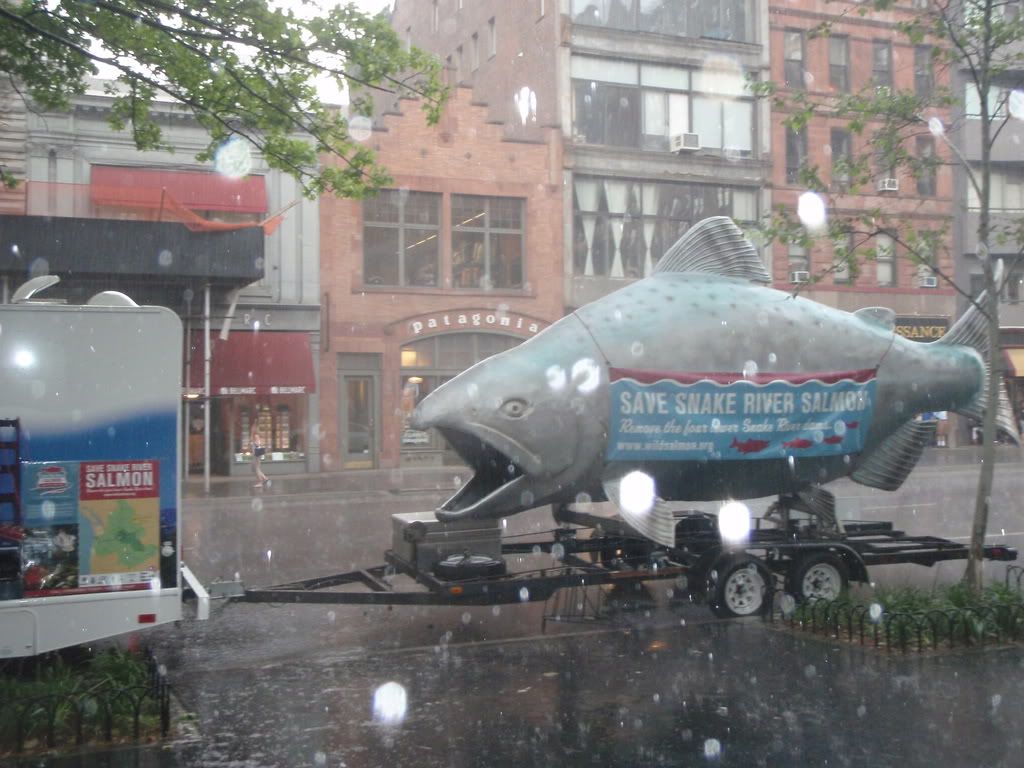 On Monday we set up in Riverside Park, just off the Hudson River. Still hot, and the nearby fountain drew some kids away from Fin, but not all.
.
Tuesday's adventure was a driving tour of Manhattan. Bill might be losing his mind, but he sort of likes driving the fish through Manhattan.
By Wednesday, it was time to leave New York, but the good news was the heat broke Tuesday night, ushering in cooler, haze free air. You know when it's not so hazy (not to mention the smog), Water Taxi Beach has one hell of a view. Compare this shot with the one from Saturday. They're taken from the same place.